50X.com Review: My Honest Opinion
Hello, my fellow crypto traders. In this article, I will tell you my personal opinion about one of the most interesting and promising cryptocurrency exchanges right now - 50X Exchange. This is my honest review with my personal experience. I will not be talking about the future of the project and about developers' plans too much. I am going to tell you mostly about real things.
First of all: I am a trader. I have been trading futures for about 8 years. I have also been trading cryptocurrencies. I am not a newbie. I really know what I am talking about.
The Story and Current Situation
There are many crypto exchanges but they are mostly made poor... They have only basic things and they don't add new features. They are just taking commissions and they don't want to advance. And... They will be pushed aside by projects like 50X.com.
I have been following 50X since the beginning of 2018. I fell in love with their idea to make a comfortable trading platform for active traders combined with the aggregator of crypto liquidity. They really want to give traders a comfortable platform with many useful features like combined Stop-Loss + Take Profit Orders, Marginal trading, built-in hedge fund and so on.
I saw the project in early alpha and I saw how it was growing. Developers are following the project's roadmap without delays. They launched the Alpha version in time, and then they launched Beta without delays. They also launched the final version in time. The coolest thing was that even the Alpha version of the project worked great and it didn't have a lot of bugs.
Right now the project is fully launched and available to the public. The developers add new features with every update and they are full of enthusiasm and great ideas. What I like is that the developers listen to the community and add requested features if they found these features useful.
Do I recommend trading on 50X? The answer is YES. The platform works great and has several cool features. The number of traders is not big right now and developers are launching a marketing campaign to attract new traders. This platform has everything to become one of the TOP exchanges for trading cryptocurrencies.
I also recommend investing a part of your crypto funds into STE Tokens for dividends. 50X is the first crypto trading platform fully owned by public investors and it shares 100% of the profit among them. You also can become an investor at any time! Right now the price for STE is very attractive, so don't wait. When the platform is finished, the price of the dividend tokens will eventually grow.
Trading Core
One of the main goals of 50X is to make a place where a crypto trader can buy any cryptocurrency listed for any other from this list directly. This technology is called A2A (Any to Any). I am not going to explain how it works; you can find all the information on A2A Tokens page. I just want to say that this technology really does what it has to do.
Right now there are only 17 coins listed on 50X.com, but you can really go and buy any coin for any other directly! That means there are 81 pairs (and that's Beta). Developers promised to add about 100 coins by the launch which will give traders 10 000 pairs in total!
The leader of the developers' team said that they are going to start adding new coins once the exchange is ready to accept new traders. Adding new coins attracts new traders and the developers want to give them only perfect experience!
I am absolutely agreed with such an approach. They don't want to run a huge marketing campaign until their product is finished. They want traders to be 100% satisfied. This is a very good strategy. A great product will advertise itself.
50X is also an aggregator of crypto liquidity. It connects to the other exchanges and collects orders from there. It potentially allows a trader to get almost the best possible prices on the market. It also allows big players to fulfill large orders without dumping or pumping the market.
Comfort and Customization
The other thing I absolutely like is that developers pay attention to making the exchange comfortable. The interface is made as an SPA (Single Page Application) meaning you can access all the required information in one window. You don't need to wait for the page to load when you switch from one area to another. Everything works instantly and tremendously fast.
Another cool feature added in Beta 4 is deep layout customization. You can set your own color profile to make the exchange look like you wish. You want it to be dark? No problem, go and do it. The cool thing about this is that there are not only pre-sets. There is deep customization and you can select any colors! Have you ever seen an exchange with such features? I believe no, 50X is the only right now.
Trading Features
Right now a trader can place Market and Limit orders. Developers are going to add Stop Losses and other order types soon. A trader will be able to place Stop Loss combined with Take Profit. That's very necessary types of orders!
The Order Book is informative. You can see not only total volume for each price level but also an aggregated volume for current level plus previous levels. This is a cool feature if you are planning to make a huge deal. You can estimate how your order will affect the market.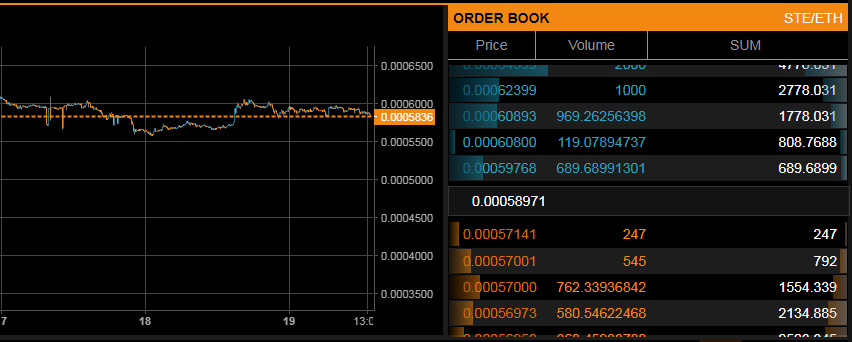 You can also see your current orders in the Market Depth. Your orders are in a separate column which gives better visual control.
Fast counter order creation. The other cool and comfortable thing I use a lot is auto-fill of the order when you click the price or volume in Market Depth table. When you click the value, the system automatically fills data in counter-order. It allows opening limit orders much faster. It's a very cool and comfortable feature for active traders.
As you see right now there are many small but very cool features that make trading easier. Developers promised to make the exchange even more comfortable. They will add the ability to copy fulfilled orders from your history, remove all the orders with one click and other cool things.
Charts and Technical Analysis
50X uses TradingView's library for building charts, meaning you can access large number of things for technical analysis. But in one of the interviews, Nick Price, the head of the developers, said that TradingView is a "heavy" library and it will most likely be replaced with a lighter one in future.
Algorithmic Trading (Robots)
50X allows connecting via API and running trading robots. The API documentation can be found here https://api.stex.exchange/api-doc You can receive a new API key on your account settings page (Personal Cabinet -> Account). I haven't used their API but it looks like it works well. I haven't seen any complaints.
Keeping in mind that 50X is an aggregator of liquidity, running robots on the platform will be a very good idea. I expect many algorithmic traders to move to 50X because of this.
Deposits and Withdrawals
The deposit and withdrawal operations are easy and fast. I had a problem with the deposit only once, but not because of the exchange. The Ethereum network was overloaded. Usually, the deposits and withdrawals are handled very fast.
I have seen the information from one of the traders in official chat. He sent his Bitcoins to 3 exchanges, one after another (almost simultaneously). 50X was the first to receive his funds, while other 2 got the BTC after some time.
Right now the platform doesn't accept FIAT deposits, only cryptocurrencies. developers are going to add USD and Euro deposit options in future.
Safety and Privacy
Developers mentioned that safety of the funds is their #1 priority. All the transaction inside is handled by their own separate blockchain. In one of the interviews, Nick Price said that even if a hacker knows login and password of admin's account he will not be able to harm a lot. Most of the funds are stored on cold wallets. Traders are forced to use 2FA to enable deposit option.
Support Staff
Support staff is always polite and will always help trader if he has problems. I had to contact them twice.
The first issue was with the Ethereum deposit. But this was not their fault, the Ethereum network was overloaded and it took more time for the Ethereum to come to my account.
The second issue was with the order. I canceled an order and I received my reserved cryptocurrency, but the order left in the list. It was a "cosmetic" bug and it was fixed soon.
In both situations support helped me pretty fast. The only thing you need to know is that if you want to solve your problem ASAP, you need to write Private Message to the moderator of 50X official support channel. If you write them by e-mail it will take more time.
Start Trading on 50X Exchange
The FIRST and the ONLY "Any to Any" Trading Platform
You need to login to add new comments.
YouTube Channel
STE and A2A tokens ICOs are finished. The exchange is now open for trading.
| | | |
| --- | --- | --- |
| 50X / ETH | 1.655E-5 | -0.63 % |
| A2A / ETH | 5.37E-6 | -0.23 % |